Eczema Therapy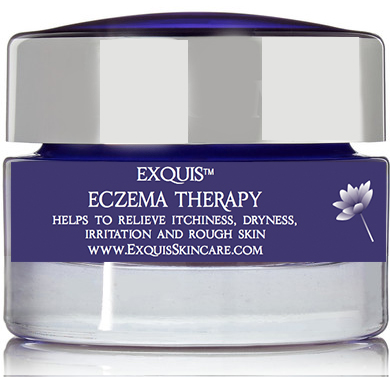 Helps relieve the symptoms of eczema including Itchiness, dryness, irritation and rough skin
1.0 Fl Oz (30 ml)
$20.00
Eczema
Existing topical treatments consisting hydrocortisone or topical immunosuppressants, Elidel or Protopic are associated with serious side effects
Elidel and Protopic have experienced steady decline in sales and the FDA has issued these products with its strongest "black box" warning on their packaging, due to concerns over a possible cancer risk associated with their use
Exquis Skincare has developed a patent pending, liposome based topical cream treatment for Eczema with higher efficacy and tolerability
Exquis treatment does not contain any actives with serious side effects such as hydrocortisone, Elidel or Protopic
What is this:
What is this:
An advanced ayurvedic skincare treatment to help relieve the symptoms of Eczema
Fast absorbing, Pleasant scent, Non sticky, Soothing and Silky after feel.
Easy to apply, Affordable yet premium quality
Made in U.S.A. Perfected for all ethnicities
Key Ingredients:
Ayurvedic natural actives: Basil, Sandalwood, Turmeric, Neem,
Exfoliants: Lactic acid/Ammonium Lactate
Moisturizers: Phospholipids, Hyaluronic acid, Aloe Vera, Avocado, Allantoin,
Antioxidants: Vitamin C, Vitamin E
Niacinamide, Minerals, Herbal extracts
What it is formulated WITHOUT:
Parabens
Sulfates
Phthalates
Animal testing
Benefits
Helps Relieve following symptoms of eczema.
Red to brownish-gray colored patches
Itching, which may be severe, especially at night
Small, raised bumps, which may leak fluid and crust over when scratched
Thickened, cracked or scaly skin
Raw, sensitive skin from scratching
How to use
For best results, apply to the affected area, after cleansing with EXQUIS DEEP CLEANSING WASH. Avoid contact with eyes. In case of contact, flush repeatedly with cool water. If rash or irritation develops, immediately discontinue use. For external use only.