Diabetic Skin Care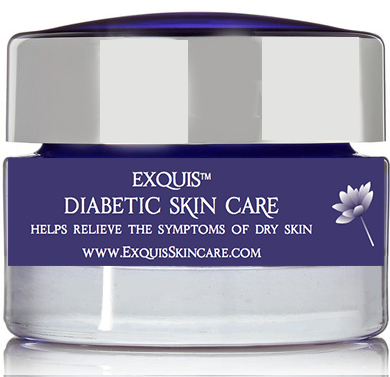 Helps relieve the symptoms of skin problems linked with diabetes.
1.0 Fl Oz (30 ml)
$20.00
Diabetes related skin conditions
Currently the National Institute of Diabetes, Digestive and Kidney Disease (NIDDK) estimates that 41 million people in the US — one in seven of the population — have impaired glucose tolerance, pre-diabetic condition that often leads to dry, itchy skin
Dry skin conditions, especially where diabetes-related symptoms are concerned, can also be a precursor to more serious skin complaints, leading to rashes as well as swollen, cracked skin that can lead to blisters and sores that are hard to treat and often become infected
Exquis Skincare has developed a patent pending, liposome-based treatment for skin conditions related to diabetes with higher tolerability and efficacy
What is this:
An advanced ayurvedic treatment to help relieve the symptoms of skin problems linked with diabetes.
Fast absorbing, Pleasant scent, Non sticky, Easy to apply,
Soothing and Silky after feel
Affordable yet premium quality
Made in U.S.A. Perfected for all ethnicities
Key Ingredients:
Exquis Diabetic Skin Care cream is delivered through a proprietary liposome delivery technology and is rich in
Ayurvedic natural actives: Basil, Neem, Sandalwood, Turmeric
Moisturizers: Phospholipids, Lactic acid, Hyaluronic acid, Aloe Vera, Avocado, Shea butter, Allantoin,
Antioxidants: Vitamin C, Vitamin E
Niacinamide, Minerals, Herbal extracts
What it is formulated WITHOUT:
Parabens
Sulfates
Phthalates
Animal testing
Benefits
A deeply conditioning cream helps relieving symptoms of:
Dry skin, Diabetic dermopathy, Liver color
Spotted dry rash like rough skin, Dark scar like blotches
Lines and Wrinkles
Over time, a visibly healthier, smoother and more luminous look is revealed
How to use
Gently massage EXQUIS DIABETIC SKIN CARE CREAM into the freshly cleansed face and neck area. For best results, apply after cleansing with EXQUIS DEEP CLEANSING WASH. Avoid contact with eyes. In case of contact, flush repeatedly with cool water. If rash or irritation develops, immediately discontinue use. For external use only.