Anti Aging Moisturizer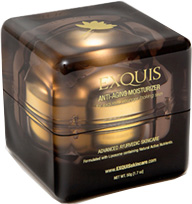 Lifting and Firming Moisturizer
0.5 Oz - 1.7 Oz
$9.95 - $69.00
What is this:
An advanced ayurvedic treatment that creates younger looking healthy skin by controlled micro-exfoliation without any redness, peeling and/or hot spots
3 in 1 Exfoliates, Tones and Treats
Fast absorbing, Pleasant scent, Non sticky, Soothing and Silky after feel
Easy to apply, Affordable yet premium quality, Made in U.S.A.
Perfected for all ethnicities
Key Ingredients:
Exquis Anti-Aging Moisturizer is delivered through a proprietary liposome delivery technology and is rich in
Ayurvedic natural actives: Turmeric, Neem, Basil, Sandalwood
Alpha Hydroxy acid: Lactic acid/Ammonium Lactate
Phospholipids, Hyaluronic acid, Aloe Vera, Avocado, Allantoin,
Vitamin C, Vitamin E
Niacinamide, Minerals, Plant extracts
What it is formulated WITHOUT:
Parabens
Sulfates
Phthalates
Animal testing
Benefits
Helps relieve all seven signs of aging: dehydration, fine lines, wrinkles, skin discoloration, large pores, loss of elasticity and fullness.
Contains Ayurvedic natural actives including turmeric, neem, sandalwood and aloe vera. These are best known and proven for their extensive anti-inflammatory, calming and healing properties
Phospholipid Liposomes rebuild the skin's barrier level and act as a reservoir for the prolonged delivery of natural active ingredients and moisture to the inner layer of the skin
Makes skin tighter, more even in color, supple and moisturized
How to use
Apply to freshly cleansed face, neck and other affected parts of the body. For best results, apply after cleansing with EXQUIS DEEP CLEANSING WASH. Avoid contact with eyes. In the case of contact, flush repeatedly with cool water. If rash or irritation develops, immediately discontinue use. For external use only.