Acne Clear Complexion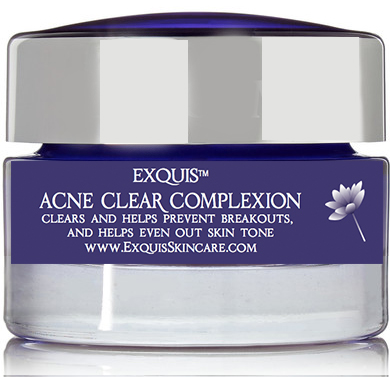 Clears and helps prevent breakouts and helps even out skin tone.
1.0 Fl Oz (30 ml)
$19.95
Acne
Prescription topical medicines used to treat acne include antibiotics, benzoyl peroxide, azelaic acid, dapsone, and vitamin A derivatives known as retinoids
The side effects associated with these medicine are excessive dry skin, irritation and skin peeling
Exquis Skincare has developed a patent pending, liposome-based treatment for acne with higher tolerability and efficacy
This treatment does not contain any actives with serious side effects such as antibiotics, benzoyl peroxide, azelaic acid, dapsone, and vitamin A derivatives known as retinoids
What is this:
An advanced ayurvedic treatment for Acne:
Acne Clear Complexion works by targeting pores to remove excessive oil and sebum production, which is a cause of acne, according to the American Academy of Dermatology. It also contains turmeric and Neem that is antibacterial and help prevent breakouts
Liposome technology cuts through oil to quickly deliver acne-fighting Ayurvedic actives deep into pores, which visibly reduces pimples
Clears and helps prevent breakouts and even out skin tone
Fast absorbing, Pleasant scent, Non sticky, Soothing and Silky after feel
Easy to apply, Affordable yet premium quality
Made in U.S.A. Perfected for all ethnicities Dark Spots
Key Ingredients:
Exquis Acne Clear Complexion is delivered through a proprietary liposome delivery technology and is rich in
Ayurvedic natural actives: Turmeric, Neem, Basil, Sandalwood
Exfoliants: Salicylic acid, Lactic acid/Ammonium Lactate
Moisturizers: Phospholipids, Aloe Vera, Avocado, Allantoin
Antioxidants: Vitamin C, Vitamin E,
Niacinamide, Minerals, Herbal extracts
What it is formulated WITHOUT:
Parabens, Sulfates, Phthalates, Animal testing
Benefits
Accelerates skin cell renewal to fade the look of post-acne marks for visible results.
Balances Hormone Levels in your Body.
Detoxify and Cleanse your Skin of Toxins
Strengthens your Skin with Essential Nutrients
How to use
Cleanse the skin thoroughly before applying the cream. Cover the entire affected area with a thin layer one to two times daily. If bothersome dryness or peeling occurs, reduce application to every other day.