Deep Cleaning Wash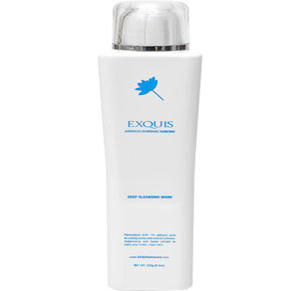 Gentle cleanser unclogs pores, reduces oiliness
1.0 Oz - 6.8 Oz
$3.95 - $9.95
What is this:
This soft foaming, gentle cleanser effectively unclogs pores, reduces oiliness, and exfoliates dead cells while promoting circulation. The proprietary formulation helps to reduce blemishes while Ayurvedic herbs cleanse and hydrate. The skin is invigorated and will feel lighter and fresh. Exquisite!
Affordable yet premium quality
Made in U.S.A.
Perfected for all ethnicities
Key Ingredients:
1.0% Salicylic acid to exfoliate and open clogged pores.
Cocamidopropyl Betaine, Ammonium Laureth Sulfate.
Glycerin. Bisabolal Natural, Aloe Barbadensis Gel, Sandalwood.
What it is formulated WITHOUT:
Benefits
Formulated with 1% salicylic acid, Matricaria and Basil Extract, this gentle cleanser unclogs pores and manages excess oil, while calming and refreshing your skin. The Deep Cleansing Wash refines skin's texture while gently exfoliating and allowing your skin to breathe.
Helps relieve all seven signs of aging: dehydration, fine lines, wrinkles, skin discoloration, large pores, loss of elasticity and fullness.
Contains Ayurvedic natural actives including turmeric, neem, sandalwood and aloe vera. These are best known and proven for their extensive anti-inflammatory, calming and healing properties
Phospholipid Liposomes rebuild the skin's barrier level and act as a reservoir for the prolonged delivery of natural active ingredients and moisture to the inner layer of the skin
Makes skin tighter, more even in color, supple and moisturized
How to use
Use at day and night. Apply small amount to the skin with warm water. Lather and rinse thoroughly. Avoid product contact with eyes. In the case of eye contact flush with plenty of water.