When you have eczema, you may already know that some cosmetics irritate your skin — but that doesn't mean you have to give up on makeup. Some products may trigger a flare, but others have ingredients that are gentle on the sensitive skin on your face and neck. The trick is to know the difference.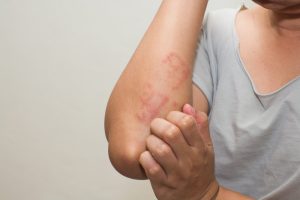 What to Look For
1. Phospholipids, Avocado oil, Shea butter and glycerin. These moisturizing ingredients repair your skin and help it look healthier. Look for skin care products that list one of these on the ingredients list.
2. Hyaluronic acid. It helps draw moisture from the air to your skin. Smooth on cream with hyaluronic acid for an extra boost of moisture and to ease flaky, dry skin.
3. Niacinamide. If red patches show through no matter how many layers of makeup you pile on, try a serum or cream that has this compound, also called vitamin B3. It can reduce redness from eczema by strengthening your skin's natural barrier. Apply niacinamide cream first and then put on cosmetics.
What to Avoid
1. Glycolic acid, salicylic acid, and retinol. These products tend to dry out or irritate skin, which is a problem for people with eczema. The condition is partly caused by a weak skin barrier, which lets irritating chemicals get into skin more easily, and lets more water evaporate. So it's best to avoid products that make that problem worse.
2. Preservatives like methylparaben or butylparaben. They help keep cosmetics and skin care products from going bad or growing bacteria, but they can also lead to inflammation. Try using products with natural preservatives like neem oil or grapefruit seed extract when you can — they're less irritating. Where to find these products
Where to buy
Exquis Natural Skincare has developed a highly effective Eczema Treatment. This product is available online at www.ExquisSkincare.com