Beautiful Eyes Cream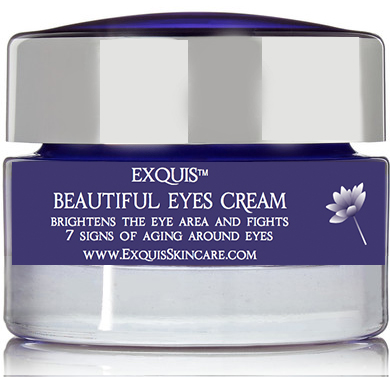 Brightens the eye area and fights all signs of aging around eyes.
1.0 Fl Oz (30 ml)
$39.95
What is this:
An advanced ayurvedic treatment for the thin sensitive skin around the eye area.
Fast absorbing, Pleasant scent, Non sticky, Soothing and Silky after feel.
Easy to apply, Affordable yet premium quality, Made in U.S.A.
Perfected for all ethnicities.
Key Ingredients:
Exquis Beautiful Eyes Cream is delivered through a proprietary liposome delivery technology to the inner layers of the skin and is rich in .
Ayurvedic natural actives: Turmeric, Neem, Basil, Sandalwood, Aloe Vera
Lactic acid/Ammonium Lactate
Moisturizers: Phospholipids, Hyaluronic acid, Aloe Vera, Shea butter, Avocado, Soybean, Allantoin,
Antioxidants: Vitamin C, Vitamin E
Niacinamide, Caffeine, Minerals, Plant extracts
What it is formulated WITHOUT:
Parabens
Phthalates
Animal testing
Benefits
A deeply conditioning cream specifically formulated for the thin, sensitive skin around the eyes. This product contains turmeric, neem, vitamin C and caffeine to help dramatically dissolve the appearance of dark circles, puffiness, surface discolorations and unevenness. The look of lines and wrinkles is softened. Over time, a visibly healthier, smoother and more luminous look is revealed.
How to use
Dab a small amount onto applicator or on the fingertips and gently sweep under your eye, from the outer corner to the inner corner, then back. Repeat the motion above the eyelid.