Ultra Moisturizer with SPF 15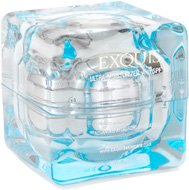 Helps relieve the symptoms of dry skin 1.7 Oz (50 ml)
Was: $59.95 || Now: $49.00
What is this:
An advanced ayurvedic treatment to prevent dryness and reduce damage from harsh environmental pollutants. Provides optimum hydration and nourishment for soft exquisite skin. 2 in 1, primer and moisturizer.
Fast absorbing, Pleasant scent, Non sticky, Soothing and Silky after feel.
Easy to apply, Affordable yet premium quality, Made in U.S.A.
Perfected for all ethnicities
Key Ingredients:
Exquis Ultra Rich Moisturizer is delivered through a proprietary liposome delivery technology to the inner layers of the skin and is rich in.
Ayurvedic natural actives, Turmeric, Basil, Sandalwood
Moisturizers: Phospholipids, Hyaluronic acid, Aloe Vera, Avocado, Shea butter, Allantoin,
Antioxidants: Vitamin C, Vitamin E
Niacinamide, Minerals, Herbal extracts
What it is formulated WITHOUT:
Parabens
Sulfates
Phthalates
Animal testing
Benefits
The Ultra Moisturizer prevents dryness and reduces damage from harsh environmental pollutants. It provides optimum hydration and nourishment for soft, exquisite skin.
Gentle on the skin —Cooling, soothing and calming. Gentle enough for use around commonly sensitive areas such as peripheral eye. Overall it improves skin texture leaving skin supple and smooth.
Absorbs rapidly into skin without an oily feel.
Phospholipid Liposomes rebuild the skin's barrier level and act as a reservoir for the prolonged delivery of natural actives and moisture to the inner layer of the skin.
Contains Ayurvedic natural actives including turmeric, neem, sandalwood and aloe vera. These are best known and proven for their extensive anti-inflammatory, calming and healing properties.
Contains moisturizers, antioxidants and Vitamins C and E to neutralize free radicals.
Excellent for women, men and children. Good for all skin types.
How to use
Apply to freshly cleansed face, neck and other affected parts of the body. For best results, apply after cleansing with EXQUIS DEEP CLEANSING WASH. Avoid contact with eyes. In case of contact with eyes, flush repeatedly with cool water. If rash or irritation develops, immediately discontinue use. For external use only.